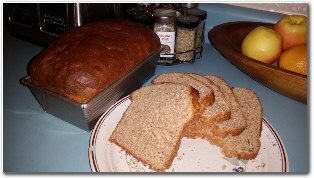 Whole Wheat Bread Recipe – Preheat oven to 375°F
2 cups milk (110°F)
4 eggs, room temperature
2/3 cup butter, melted
8 cups whole wheat flour
2 tsp. salt ½ cup white sugar
2 packets of active dry yeast (1/4 oz. size packets)
1. Dissolve the yeast in the warm milk in a large bowl.
2. Mix in the sugar, butter, salt, and eggs.
3. Add flour and mix well.
4. Knead dough into a large bowl, using your hands dusted lightly with flour.
5. Put into a bowl, cover with a moist towel and let it rise in a warm place (between 120 and 160°F) about 1 hour or until doubled in size.
6. Form into 2 loaves and let rise till crested 1-2 inches above the top of the pan.
7. Bake at 375°F till well browned and 190°F internal temperature.