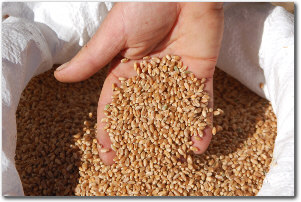 Our Mission
Heritage Grains, LLC. is group of agronomists, millers, consumers and farmers who have a vision to grow, and supply our communities with wheat nutrition that everyone can enjoy. Our role is to do everything we know to do to make your wheat product as chemical free as super-humanly possible.
Our Story
The story of Midwest interest in growing Red Fife wheat began with one producer challenging one consultant to help him find a crop to grow that was good for people and good for his farming operation. Simply stated, the farmer was sick of being a cog in a petro-chemical-big pharma wheel that was just rolling across the farmscape of America leaving destruction in every direction. The investigation led to a small grain or cereal which made sense in the farming operation's crop rotation. Then, through a series of investigations, a variety of bread quality wheat was identified which had traits which, by rumor at least, had been successfully consumed by people who had determined that they did not tolerate wheat in their diet.
The consultant began to circulate the news about this wheat amongst producers in the northeast Indiana region. Before seed was purchased in the late summer of 2013 and the first Red Fife was established in late October that fall. Results were inconsistent largely because of the late planting date and the problems of disease vectors in an area where so much corn is produced.
Reports have continued to come in now from dozens of individuals who have tried eating Red Fife who can't eat other wheat. Rarely does anyone experience any negative reaction to consuming this old wheat variety. We believe that with the help of wheat researchers investigating what is in modern wheats, we have discovered at least part of the explanation for why gluten intolerant people can consume this wheat.
We encourage everyone to try Red Fife wheat in their diet and see if it is agreeable. Wheat is still the staff of life. Read more from  the research published here on the website. Also check out the ACRES USA interview with Dr. William Davis, MD, author of the book entitled "Wheat Belly".